2001 A Space Odyssey…the cult film  shot at the end of the sixties: ever since 1968 Stanley Kubrick made knowledge  came down the earth  in a menhir of black stone that appeared in the desert, before man laid down his feet on the moon getting down off the shuttle "Apollo 11" on  20th july 1969;  it was  a sort of  radio transmitter connected with the future of the far galaxy Clavius, that was light years faraway, and that acted as a support with Jupiter. From where a man by then alone and immortal was trying to broadcast the elements of evolution to have the possibility to be reached one day by a spacecraft and by the only man that, survived to the same knowledge, could take him the necessary germs to bring him to death.
                                                              Menir, Zed , Djed
The menhir of black stone: monolith or  benben  for the ancient Egyptian, the origin of everything …  in  Heliopolys  Ra   enlivened it with primeval knowledge;  the pillar Zed or better  Djed, for the ancient Ur of the Chaldeans ( the present Iraq), that symbolized the highest knowledge, the apparent void… the black stone of Mecca.
                       Kubrik shows the Merkavah , God's Chariott, on Jupiter's sky
A parable named odyssey,  of travel in the dangers, started in the vivid light of the desert where it had appeared the diorite stone  to stem knowledge in the minds of the monkeys that began, to better overwhelm one another,  to use clavicles … from which clubs… perhaps it could have a better input!!
During a warm summer in  1972 Roman Polansky had  rent in Rome on the Appia Antica a big villa with a swimming pool, garden and small lake in japanese style with customary menhir of black stone  set among the waterlilies.That very summer Paul Morrissey, directory from the Factory of Andy Wharol, had shot there "Blood for Dracula" the movie that saw the last appearance of Vittorio De Sica and the cameo participation of Polansky to fill the sudden absence of the leading actor Udo Kier….in the impossibility of repeating the shootings….the day following ended the period which the villa had been let out for……
play-bill of Morrissey's movie
The principal residence, a two-storied building, gave hospitality at the upper floor to the actress Faye Dunaway, disintoxicating to better face up the shot of the film "Chinatown" ,  the scenarist Gerard Brach, his close friend , with his wife and  the producer of the movie.   Roman slept in the  villa annex to secure himself that independence so necessary to him and so indivisible from his life style:  the bedroom looked straight on to the garden and it was easy and prompt to reach the swimming pool  set among the olive trees and to find relief swimming naked and free from heat. By the side there was a little sitting room and a dining room in the jardin d'hiver with a big central oval table. Here one morning at dawn I found myself entirely dressed up as a geisha, my feet covered with white stocking and slipped in black flip-flop sandals, a tight-waisted  broad belt….
flip-flop
Vague memories, made even less clear by the popper that Roman had me smell breaking it under my nose while we was making love…a medicinal for heart attacks, a vasodilatative that protracted the moment of pleasure, widened the sensations of pleasure…you could feel  pangs of orgasm even inside your head…and then you remained a little dim, having felt  sensations so deep and satisfying, maybe a little surprised : still alive!
I think there is nothing better in life than a nice and prolonged natural sensation of pleasure, nothing more privy than be able to share such a great pleasure with someone.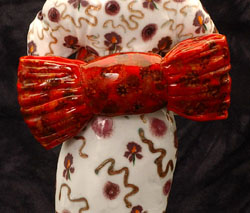 porcelain geisha
I remained so helpless, then, not to know how and why  Roman had begun to dress me with a ritual Japanese kimono. The silk made the skin cool at four o'clock in that hot summer night. A little light in the room…I never asked myself why anybody took care so much of me, it made me delighted the idea to be an object of so many attentions and…I let do.
Roman tightens the belt around my waist, it is a long piece of cloth, he must wind around me more times. Beneath I am naked, I feel it still palpitating of the reminiscence of the just ended love, soft and wet.
The bosom, source of life
I've always had nice breasts: I liked feeling them touched  by a  loving caress so as I liked looking at them reflected in a mirror.
At Roman's I had learnt a new trick to feel more pleasure in the moments of intimacy. One evening, after playing chess in the central hall of the villa, as soon as the guests had retired,with a conspiratorial look he had taken my hand and had driven me in his room to resume the play with the musical background of Carmina Burana. How was childish longing to withdraw to have the possibility to carry on the plays left the dawn before. Here is the innovation: Roman had removed a big mirror from the wall, a mirror with  mercury glass on a grey background, the antique frame fastened the image as if it arrived from a time forever unchanged. Set the mirror on the ground, he asked me to widen my legs putting my feet at the sides of the frame, he began to take me from my  back, entering in my sex saying  "regarde en bas , ma petite! " "Just look down now Eli" he repeated in english and I …look and immediately loose my head …the image that I see reflected strikes my imagination: I look his sex  entering mine and the pleasure I feel makes its way into  my head while Carmina Burana beats the time of our play.
Carmina Burana's work has been reassessed by the composer Carl Orff
http://www.anthea2.freeuk.com/carminaburana/
But what's the use of the geisha dress?  Why in that incipient dawn ends that particular  dressing?  By whom and what has suggested it?  I'm stunned,   let do  don't feel worry, I'm well. He takes my hand, we cross the garden and then…. nothing more…I find myself alone in front of the black menhir,  open my eyes…the dawn has begun, the air is clear and I am astonished at looking at me so similar to a geisha. An inner peace surrounds me on the edge of this pond in front of that black stone, I'm happy to be here, to learn the existence of a knowledge towards which I don't feel desires or impulses of cognitive inquiry but only a feeling of peace, pure contemplation.
The ideograms that form the word  "geisha" mean  literally translated "person of art"…therefore me too an artist in my small way!  I was really proud of it:  geishas seek perfection in every single and small attitude,  nothing is unimportant,  is the sublimation of the art of  knowing how to live!
around 2350 a.C. Diorite 120cm
Phoebe Hearst Museum of Anthropology- Berkeley
Now I remember my studies on the ancient egyptians: they used a material hard as iron, the diorite, to forge the worship instrument "to open  mouth"…that diorite originated from a meteorite and was considered sacred…we must remember that mankind in that period didn't know iron yet…it was still the Bronze Age…
Confuting with my guests how the geisha ritual dress wasn't the most proper for me…maybe a see-through egyptian tunic, symbol of purity, would have been more consistent. But the sensation that I feel is such as to desire not to blame my guests: I fall on my knees in front of that magical black stone feeling only serenity.  The meadow is dewy, I begin to shiver, wake up from that meditation and return home.
People I meet feel uneasy for my serenity this will cause a break! They have understood that I'm not like them, I don't live of  fears  but let life leading me by the hand keeping my feet  well firm on the ground. I'm different, so they'll be afraid of me… this attending will finish soon, maybe I've had somebody feeling remorse for the way they behaved towards me. Unfortunately I couldn't do much to help them…I think it is a good rule never use anybody for our plays without acquainting him of it: it shall always be a free choyce of his without ever misuse his will.  Maybe it is this too, peut ètre,  can be:  it has been mistaked something towards me and now someone feel embarassment…my only presence is enough to recall it..
in Paris at Roman's home
Years later in  Paris at Roman's,  that had become a father of a wonderful child with the actress  Emmanuelle Seigner, I came to know of the particular form of paranoia towards people of Gerard Brach and his wife, they didn't come out home anymore for fear to be infected, touched by others… terrible….I was sorry to know the sad ending of their life.
play-bill of Tornatore's fantastic movie
In that october of 1994 Roman was just through a complex experience of actor in the wonderful film by Tornatore " Una pura formalità", with Gerard Depardieu in the role of a suicide writer who found himself in an incredible police station where a temperamental chief constable ( Roman Polansky) subjected him to an exhausting interrogation to remember him the fact that he had committed suicide, a crime against life, and he was investigating him… but the lance-corporal was recording their conversation using an old typewriter without any sheet of paper, in the rooms of the police station was raining plentifully…slowly it results clear that all that interrogation  is part of a mechanism to investigate the truth and remind it to the protagonist with the sole object of having him paying for it in the afterlife, in the Elysian Fields…Wonderful movie, incredible actors, lofty direction and screenplay…. I favour it as one of the film I loved most ….reforming till the last moment, if possible. Thank you!
Once in Venice, while we were shooting the film "Nero veneziano" I was frequently guest at the dinner  of  Hugo Pratt illustrators ,Alighiero Boetti 's close friends, they were responsible of  the endearing colours of Corto Maltese.
Corto Maltese comix-strip
To reach at night their house I had to cross desert calles, towards the Coast, bridges hanging  on motionless waters,  runic signs on the walls of the palaces that overlooked as ghosts with their angled  windows, memories of carpets of thousands colours hanging at the windows before the plague that had painted of black condolence the gondolas too…Yes, Venice remind me more than other town geishas' culture: it's a natural stage, surrounded by water, identical in time it's ideally secluded from the noises of present-day  world:  it conveyes the idea of life as a space where we living beings, ideals actors shall perform a part at the best of our possibility.
Traditions can help us, we need eyes to see and ear to hear but above all memory to remember and…will to carry out too!!!  Three thousands years before Christ the Egyptian culture, by me so beloved, reminded that the senses were only four: sight, hearing,  speech and intelligence. The first two serve to increase the second  two.
Homer in the cartoons "The  Simpson" tells the following cue: " I must only remember to be part of that tenuous blue line between world and chance: I adore receiving messages from there"
Stop thinking and start guessing, being transparent vehicle of the speech still unknown to us.
all trapeze artists: hold it, please !
"we all are trapeze artists  of the nothing"  from a quote of  Platinette…and it is therefore that world belongs to enthusiasts,  able not to loose calm… and grip……Will I manage????