Who'd have ever told? What a lot of dinners what a lot of lunches with friends of any time I'd have never thought…As a child, I lived, after my parent's separation, with my mother… she and I alone in a sunny top floor in Rome in viale Carnaro and for years I haven't been having any experience of conviviality.

Richard's eggcup from 1880
When I came back from school in the evening, I was eating alone in the kitchen or before the crackling fireplace under the educator's eyes of my mother and the only thing I wished to do it was finishing everything as soon as possible to relieve myself from that uncomfortable position of inquired….sometimes my mother invited her polish friends at dinner and I, excluded, hated their tipsy voices and their laughters, for me more than spooky!!! All that loneliness made that at the first occasion, at sixteen, I profited by every friendship to be no more alone .
Since that moment the table has always been for me an excuse, a wonderful way to meet, to hear enchanting stories enjoying exquisite courses. Every time I've sat at a table it has been a success: life has sat beside me all the time and has always made me glad.
At dinner in Villa Bellavista, on the back Galleani's family overdoor
My father left out problems from the table, it was absolutely forbidden to speak about life's worries while having the meals, afterwards it was possible to deal with any subject but at table the food was shared with respect for gastric juices….it wasn't a place where setting down our own anxieties but a place where recovering energy to face them later… a no men's land….
For me to be able to behave at table is as much important, just because I attribute a main role to it: it is here that you meet people, I love looking my table-companion into his eyes and share with him all my love for meal, good wine, ambience, loose of time's knowledge mixed with happiness of sharing thoughts, stories, lifes…I'm surely a little gourmand , greedy, fond of good meal..

Ruy Brandolini d'Adda with Peter Bemberg and me
I remember Vistorta di Sacile at Brandolini d'Adda's homestead , the course arranged by the uncle fond of good food : only marrowbones without meat, wonderful marrows in profusion, a delicacy without equal…everybody was waiting for the lady of the house to began eating to break the torture of that wait and finally attack that fragrance which, causing desires, came up from the dish…
1971: before breakfast walkings in the mist with the father Earl Brando, then backgammon games and about four o'clock time for nap….or better the reawakening of the warrior Ruy, where I could enjoy other tastes and realize other desires!

Swan at Vistorta's lekelet and Brandolini's Homestead

I loved Vistorta very much, its country, the rises in the gats, its people. A venetian ex-boxer waited: at every request that immense and gentle hulk answered "Comandi" …I found this so ironic and sweet told by him…an ideal Primo Carnera come down from the ring! Angelo picked me up and took me at the airport of Mestre and during the way he did all his best to make my arrival or departure from Vistorta more agreeable…a perfect gentleman, really I tried to avoid asking him anything in case he could answer "Comandi" … in my opinion that played down him a little whereas, actually, it was only a pet phrase of venetian dialect!

Maxfield Parrish
I've so much wished to enjoy the pleasures of the table, as a child, that when I managed to I've never found anything that wasn't to my liking, I have tasted and eated every course without ever rejecting anything.
I mistrust people that don't like the pleasures of the table, those who eat with the hunched head …. nearly as if they were bad djinn able to take me back.. to the age of the childish loneliness!

December 23rd 2003 Hill House Oxford guest of Sendy and Peter Rutt, Daniela with Filippa
Tables could be layed with lace tablecloth and table decoration or merely with a sheet of paper as in the roman "buiaccari" ( tipical restaurants frequented by artists, from Monicelli to Flajano, from Boetti to Tano Festa ) where you can leave your thought gliding on the spotless tablecloth and let it so impressed in the host's hands.
Paper Table Cloth

Trattoria al Velabro , Trattoria al Flaminio, Trattoria della Quercia behind Piazza Farnese in Rome: it looked like to come back to the age of the Jacobins: the host arrived with artichokes jewish style on the left hand, plates and cutlery on the right, spread the paper tablecloth on that dark wooden table and seemed to assure that here you could and should speak of everything, the easy wine of roman castles would have been viaticum for a very good lunch…he himself had seen a lot of meeting….so many guests, from Dr. Magni to Steno, all the progeny of Italian silver screen had been his guest, he guarantees…thanks also to the genuine food that we'd have had the honour to taste shortly after for few cents of expense!!

Play-bill of the movie Tom Jones

The "Buiaccari" remind me the movie "Tom Jones": through the ritual of eating the protagonists, by candlelight, recover their sensuality already since their first encounter: every morsel of food becomes a request to subsequent plays, feeling each other in the distance, touching with the eyes, postponing ourselves to an even better conclusion urging our mutual wish of abandon….letting wine in excess running down from the lips, down along the neck towards the brest….two red lines capable to disembarrass every mind!
Albert Finney play the lead in the movie Tom Jones

1996 at Versailles, french land I was guest at a "privèe" dinner: seated at a small table we sipped very good champagne eating grey caviar by candlelight, he was looking at me admired…it was a particular evening, two friends as ever meet each other to spend that time together in the full anonymity of a foreign country, free to be, far from their own roles and ties, eager to live…so I was delaying in tasting those grey pearls, I betrayed all the delight they provoked in me, I repeatedly licked my lips, moist with desire, so as to share with his sight the pleasure I felt. Irreproachable waiters was changing the cutlery nearly as if they were not present, so discreet to let us alone in that suffused light! The "privèe" was full, all the tables were taken and rejoicing, a background of laughing was mingling with soft music. Everybody knew why they were there, only for me was a novelty which I wouldn't have enjoyed too late.
Until a command "Eli turn round: look what's going on at the table behind you"
The light of the candle lighted up a girl with long fair smooth hair, she had stood up from her seat to bend down next to his mate on the canapè and was kissing him on his mouth, he was brushing her brest bringing it to light while everybody stopped eating to look admired. The waiters kept on serving drinks as if nothing were the matter…she bent down to open his trousers and disclose their content, she did it with chosen ability so that we all could take part, let glimpse his skin's whiteness…he put a hand on her hair and pushed her to the pleasure…looked at her with boundless love and complicity….Excitement had taken my hand and made me stand up, took me in a dark corner where, as when I was an teenager, I could feel again excitements of first sex.
I always remembered my first kiss on the lips, the sensations of pleasure it had given to me and which I was looking for again all through the night, during which I had kept on touching my lips in search of the memory of him, I was licking my lower lip with my tongue where I had felt his lip, recalling the sensation proved by his teeth in biting it… by his tongue in having me…with the desire of doing it again , again and again.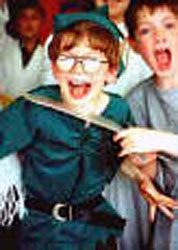 The Chiefs by Maxfield Parrish and Peter Pan
The imagery at table has the great power to make ourselves free: the table of Peter Pan in Never Land is full of sensuality also in ruling plays of kids, in their talent to taste invisible foods making them true in the moment they are shared…happy thoughts capable to make us fly rise at table from our ability of thrilling enthusiasm in the participants sharing a common thing. So had done the young couple in Versailles: They got excited making us participating with their desires, had shared their own sensuality with our glance without over involving anyone, an instant of life, a provocation to awaken their own senses and those of the sleepy dinner guests.
At Capri with Andrea Tognoli and Franco Rapetti
It is so amusing to awake the table inserting, at the first glass of wine, here and there, a little of sensuality: I like provoking conversation directing it towards subjects known and of sure success.. "what's better then a dinner among friends where, plainly, expressing our own thoughts comparing them, enlarging our own knowledge receiving confirmations" It is an art to awake the sleeping who is in us! "I really believe there is nothing better then pleasure in life": this provocative statement has left many forks hanging in the very middle of a dinner, as certain preamble of something more intimate. Joy…. a social taboo gives life to the table, the most desirous spirits are asking themselves in how many ways can anyone take orgasm? Well, clitoral and vaginal for the women, that correspond to the two male ways …Two? ..and which are? And, from the top of my feminine ignorance, I'm a woman, not a man, I sentence: spirting and as the gays do, with…limp dick!.. at this statement the tableful doesn't hold anymore, they all laugh heartily, their cheeks blushing, their bodys on edge ready! There is always an accountant in the party, clever above all at remarking "then women take pleasure in three ways"…. "true…", add I, "without forgetting the solo delight, with mind full of forms and ears packed with archaic words, sure stimulating of our pleasure"…And what a lot of those words are required to make me have pleasure….Animals surely can do it better then us, they haven't got thoughts which control them, they are instinctive and have soon pleasure every time…for them it is simple, they shall look at us as at the intellectuals of sex, pity us for the way in which we complicate a life and an outcome so simple: it's enough to touch there with the due intensity and here turning up the pleasure…
Carpe Diem
Calarossa 's table with Notre Dame'sculpture

At the centre of an improvised table among friends, last summer in Sardinia, I put a sculture leftover from the show Notre Dame , a sure phallic symbol. The unusual surprise opened the channels of immediate in the imagination of my guests and a good glass of fresh Capichera wine set free the enjoyment: everybody showed the best of himself at once!
Carpe Diem and what else otherwise? We live at present and only now with the teaching of the past and the dreaming of the future, which are nothing else then the whole time of our life……but only now! It's only a question of point of view: if I look at a carnival parade from the top of a tower I'll see it in its totality, its past, present and future, which on the contrary will appear splitted to the one who looks from the side of a street: only when it passes before him it is enjoyable then it will be over and he must wait for the next coming…But if I look at it from the top I see that a part of it is indissoluble from the other, it has a beginning and an end, that's all: no moment of life repeats itself and so it shall always be lived at the top of our possibilities and abilities. So we'll remember it…every single emotion will belong to us forever, shot in our memories…
London, two Christmas ago: Georgia the daughter of my english cousin Mark deGalleani, only ten years old, made the whole tableful witty with an unforgettable quip of plain english taste…I think it is really tipical of family the pleasure of amazing….The dinner enough conventional , for her surely boring, was causing a little burp escaped to her in a moment of conspiratorial silence, so her father reprimanded her with a serious "Georgia please apologize to the table" and …she unflappable moved silver servers… china dish, tablecloth to bend down towards the bare table and say with all the magic seriousness of children: "Sorry table"!

London Last Xmas:Lord Bob Lady Beryl,Mark me and Georgia
A rejoicing! Brilliant quip, it had summed up in a bit under our eyes the relationship between father and daughter, that tenuous complicity which allows us, when we are loved, making fun of the other in a rush of independence.
But even when we are only likely guests you are not less: Barcelona, september 2002: we were going around looking for a restaurant where was possible tasting shellfish "mariscos" in Catalan's idiom. Everywhere queues already since eight o'clock in the evening, real queues, in the streets, of a hundred people too and, not knowing the restaurants' capacity, we left off at once to pass to an other lugar…In practice we had been going around since two hours without any possibility…I was going on entering in restaurants to make me sure if there had been served up "mariscos" and then, as soon as the head waiter showed me at the queue, usually also camouflaged in the paseo…I left off! In a small typical square winning music and fragrances arrived from a typical small restaurant…on the door a white and black dressed young head waiter was waiting for the fellow guests. I approach him: is really a nice boy, tall, dark, arab eyes…I look at him and ask "Perdone a qui ai maricones?"..( in spanish it means gay !!!)…He is astonished and not little…he addresses to the head waiter inside the restaurant "Alvarez tenemos maricones ?" and to me "no non tenemos maricones"
I wanted to die….burst of laughters and contemporaneously my face that blushes brilliant red, because only then I realize: "Perdone …" I laugh too "Perdone.." "Quieremo saber des mariscos"

At the "La Decima Puerta" with Fabio Plasmati

No, we have no more the cheek to stop there and finally go to eat, after having subdued to a queue of forty people, in an old inn with a premonitory name, the "Decima puerta", where once again the table has cheered up our time joining it indissolvable.