I was swimming in the azure water of the swimming pool, length after length even my thoughts became more and more liquid, they lost their rationality becoming instinctive and no more sequential…They were surprising me in my course…doing breast-stroke I let me glide in the water after every push savouring the joy of having no weight, of flying in a world of blue outlines with only a black line that made the swimming pool look like an ideal landing strip. The achievement of Nirvana, nullifying all thoughts, undertaking me in counting the lengths I was filling my head only of those numbers….twenty….twentyone….up to forty. Every now and then a thought appeared predominant and made me lose my calculation.
I withdrew happily into myself, I wasn't waiting for anything more from the world and all in all I succeeded in living in peace without wishing other more love …I had no need for others.
Somebody would have awoken me from that torpor, from that false satisfaction of life.
Our soul is said to be a machine that repairs by itself and even when emotionality seems to be disapperared here it happens something that awakes our heart, emotions return to lord it and upset any prearranged course creating new ways.
It happened this year on Epiphany when in my home arrived Bamboo, fortyseven days of life and energy…a small italian greyhound with grey mantel…just the dog of my dreams!
Bamboo is a puppy
It arrived in a thermos dog's bag with his small blanket, the small felt duckling taken as first hunting trophy. He arrived escorted by his marvellous family, like One Hundred and One Dalmatians, the timid Swamy all black with a very long muzzle, the father champion Obi, Oberon with the grey mantel as his and Sally, the mate of his first plays. All together thay invaded my small house taking possession of every corner of life…at first the sofa, then the armchair, the chairs, the bed…everything, really everything was visited by that happy company. I was happy so, I wanted their smell remained to let the puppy feel at home, that was advancing with his smell in exploring his new house and then came back running in his surer and familiar thermos bag.
Inside his bag
y last dog's name was Già and during my journey in Afghanistan in 1974 I had to leave her in the country at Umbertide at Serghiei's, my friend Sergio Baldi. When I came back she has suffered a lot, her dull eyes were full of an immense sadness. We had met on the beach of Sperlonga after a sleepless night, a small sicilian hound bastardized with some other race, very clever she had divided with me two years of life…before my leaving…then….the sorrow of that abandonment had cut short her life…and I hadn't been able to take another dog anymore. I felt guilty of her unhappyness due to the fact that all the love I had been able to give her in her first years of life had made her feel an orphan when I left for that journey in the East.
My lovely Già
In 1975 I lived in Rome in Via dei Cappellari , behind Campo de'Fiori…I was lying on my bed and she come in my room while I was pursuing pleasure alone…she looked into my eyes with a lot of melancholy and came near my legs biting lightly the center of the pleasure giving to me an immediate delight… I came out of that experience shocked: she had made me achieve an orgasm in a moment…she knew how to make and the melancholy in her look meant just that she would have shared with me her secret. It wasn't a question of gestural expressiveness to perform but of intensity of feeling to lead to immediate pleasure. She gave herself to reach me, she made it without schemes and without protections.
It didn't happen anymore but I understood forever how animals have in endowment more soul as we have and know how to share emotions directly without paths through which reach them. Thanks Già , thanks for all your love, for all your teaching that you wanted became mine.
So now I hadn't anymore the heart of become fond of another animal to not let it suffer and to not suffer for it.. I had told that to the owners of Bamboo, Annalisa and Angelo.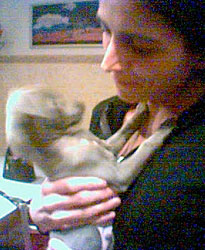 Bamboo and Annalisa
I couldn't leave him and in my future journeys I'd have had necessity of their support, I should have expected on that beautiful family where to recover my puppy, sure that there he'd have found the same love in sufficient way to not suffer my leaving. They know the animals, they can share their emotions and are able to give love and sweetness always.
Knowing that I haven't to leave him in the future but warranting to him a sort of pouch where to wait for my return I felt surer to be able to take him with me.
There was never need of that promise of hospitality.
His last picture just before the tragedy
After nine days of life spent together, just when me and Bamboo had become one single heart…he hurtle down from the terrace, he fell to the ground without a whining, the cervical vertebra broken and my heart burst. I'll never end to mourn his death, to remember his little paws that lay on my face to have me, his small muzzle of spiteful puppy that in a while has got away from life throwing himself in the void. A misfortune which he first didn't realize. But I know too that now he suffers because he has left me and I wish it wasn't so, I'd like to tell him that soon we were together again, I'd like now that he just could rest "requiescant in pacem"…that it's me to have failed…not him…I haven't been able to shield his young life full of energy and rashness.
It was a warm day of 1956 in Alassio at Villa Costabella and my mother has left me with my little cousins for the whole afternoon. The one who then became my father's lover, Mrs. Vittoria was the baby sitter of my two younger cousins, Checca and Titti, born respectively one year before and one year after me.
During the hottest hour she took us in the garden, together with our grown up cousin Nini to play with the swings among the high pepper trees .
Somebody was pushing me higher and higher, so high to let every time the wood seat jerk…I think everything happened in a while… I let the hold and fell …down.
I didn't remember when I arrived on the ground, my fall is completely forgotten but I take with me the imagine of when they carried me running inside home. It is impressed in my mind because the memory that I have is without time. In that short journey I know I have seen tangerine trees in their large pots, the sky, the house upside down…but I saw them with eyes of adult…
It was a new vision…I think I have lived it with my "es", my spirit because my sensation was that of being without time in the time, of seeing things with adult's eyes, it was a new imagine for me.
I'll never be able to know if my life ended there to go on in a parallel condition, the present one… or if in that moment my spirit reached me and was for me a real eye-opener for the reality I should have lived with so much realism.
I remember my little hands letting go my hold and then a new vision of the world….as an adult!
Nowadays I suffer from dizzy spells and I wonder if they are due to that fall or if they were the ground which blocked my survival instinct making me throw.
I only know that was a moment and I didn't realize when I touched the ground, maybe the angels had hold me up, I don't remember I felt pain….only astonishment… later on.
Will I be still alive?
47 days of life
Bamboo.. it has been…this life is too difficult to overcome when you have so a pure heart…you can't recognize nor guess the dangers. In that we were equal, our hearts blend together when we exchange tenderness, when I lifted him up from the carpet to let him squat down on me and he put himself on the hollow of the shoulder, on the brest and lenghtened his muzzle on my neck transferring to me all his loving capacity, making me trembling inside for that wave of emotions he could give me. When he fell asleep I put him in his thermos dog's bag and he squat down near his mate, the little bear that now I hold to my neck looking for his smell, trying to live again as if I was him what he saw…what he heard…
Whit his favourite bear
Bamboo: life is a breath…while I was trying to reanimate you blowing air in your lungs your small heart ceased to beat and in my hands remained only that small velvet grey body that I hadn't been able to shield. Bamboo excuse me, excuse me…my heart is heavy for the sorrow I feel…small heart full of joy I'll find you again and again we'll play happy to be together once more.
…a kiss
I can take comfort thinking that time doesn't matter, it's the strenght with which you live it that makes it full of happyness….but nine days are really few, it's the wingbeat of a butterfly… Now I want you to be able to hover in the air knowing that as I found I'll find you again and we'll be both wiser and we don't leave each other anymore.
What remains of a nine days' or a hundred year's life: nothing but the intenseness of what has been shared, nothing but love felt one for the other…this is life…love without patterns…live fully to not have to think then to haven't succeeded in doing it. It matters emotions, kisses, tenderness that we succeeded in exchanging with our fellows. As the hug with your human mother, Annalisa, out of the veterinary surgeon in Savona when nothing more could be made for you.
Oberon and Sally
That same evening we have the visit in our house of Oberon, Swamy and Sally here where you weren't anymore and already lied in the garden under the ground covered with salt natron, the felt with which you played as your guardian… the black panther big exactly the double of you that you mistreated with all the temper that you could make appear…A neverending play…even flying… poor Bamboo …
Your father Angelo trying to muster up courage in me that evening threw up for the sorrow of having lost you…
Oberon and Sally filled me with kisses and I felt my heart climb in my mouth and go out in a still stream of tears on my face….
Oberon…I'm so sorry…
Fly my little one, fly towards the sun, to the light that is waiting for you and there we'll meet soon happy again…little love.
Bamboo in your name there is your destiny, in the way I ever wrote it…mistaking. Because Bamboo must be written Bambù, today I realize it, without that final "boo" .. a simbol of fright so as Shiver… the name with which they wanted to call you…just what you suffered: a fright and a shiver. On my cell-phone address book resulted stored Ramboo any time I called Annalisa…and as Rambo you risked his life in a jump…A fate.
I'll try to have time passing without you but your love will be always inside my heart and with this contradiction I'll live without ever forgetting your kisses, your boundless love.
My mother has always told me how can I be dangerous for the too much love I can give…and it is true…if I hadn't take you to the sun yesterday afternoon, if I hadn't wanted you to know my terrace, the garden, the world…if I had remained home to enjoy the warm…you…you 'd be still alive…Too much love stifled…but then which is the way?
Moderation maybe, common sense, wisdom…all that wasn't in our little hearts of enthusiasts …
A dull thud on the asphalt…neither a cry…you didn't realize… this matters…but I lost too many loves in this life to feel me not proved.The sorrow for a loss is always the same, you stand there open-mouthed letting go out from inside that moan that breaks the soul and it doesn't ease doing so…you can only express it. With you little Bambù has been incredibly even stronger, more disruptive if possible…it went on going out nonstop with the same strength of the love we had expressed in life.
A greyhound … at the First Dinasty
In Egypt, in the tomb of the first dynasty of the Pharaon's wife Her-Neit has been found the small skeleton of a little greyhound…who knows which love history of three thousand years ago associates to ours…maybe the same because we all, humans and not, are always the same and in the encounter are emotions that make us recognize, that open the heart. So is for everyone and everytime, without feeling to be privileged because we all are so… it's enough to want it and in our similar we find ourselves, a flock of expectations and curiosity with the only desire to meet again exchanging each other emotivity.
Let's try to love each other more, to recognize each other with indulgence and maybe we'll meet again more often.
I think I'll leave…I'll go in Egypt to search that evidence of love in the ancient tomb of Her-Neit, where a woman of other times but with the same love took with her in her eternal rest the small stuffed body of her "Bambù"… I'll commit to the peace of the Nile the courage of my little "Bamboo" and I'll hand over him to the mountain of the silence "Baboo", to the Qurna by the outline of Toth, the baboon of the time…in a rose sunset rich of promises…and of excuses, mine…small innocent creature.

Nile's sunset at the Isis Hotel,Luxor
I return in the water having my thoughts wrapped up, drowning my anxiety in swimming the lengths…I come back to the ancient azure remedy, I swim, swim at breakneck speed, I count the lengths…alone again….